I AM AN INDIGENOUS ZAPOTEC ARTIST, CURATOR, EDUCATOR, AND ORGANIZER BORN AND RAISED ON QUINNIPIAC LAND. LAND THAT IS NOW KNOWN AS NEW HAVEN, CONNECTICUT.
I BELIEVE THAT
ART IS FOR EVERYONE.


I BELIEVE PEOPLE, NOT INSTITUTIONS, GIFT US REAL CHANGE.
I BELIEVE COMMUNITY TAKES CARE OF ONE ANOTHER.
AND I BELIEVE ONE OF THE GREATEST INVESTMENTS WE CAN MAKE IN OUR OWN COMMUNITIES IS TO YOUNG PEOPLE, THROUGH MENTORSHIP AND EDUCATION.
MORE ABOUT ME
HERE
SCROLL DOWN ︎︎︎︎︎︎︎︎︎

TO VIEW WORK
WORK

amor eterno - (ETERNAL LOVE)

amor eterno is about the daughter. the identities of being mexican, Indigenous, latinx, and first gen seep into this series. the love that machismo doesn't give her. the love she cultivates, that learns to grow through stone.

cell phone images turned seriagraphs(silkscreen)
ink on paper
dimentions variable
2019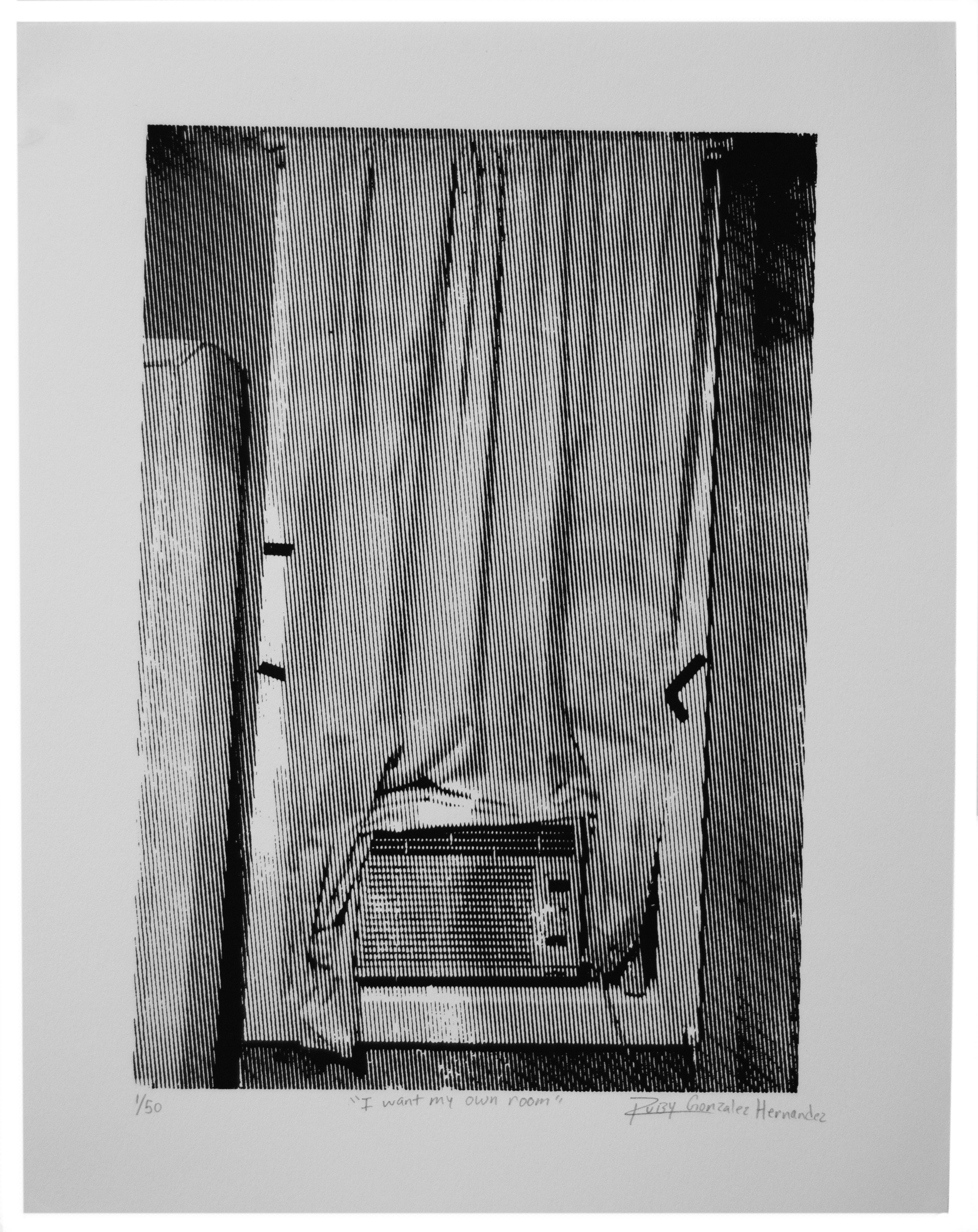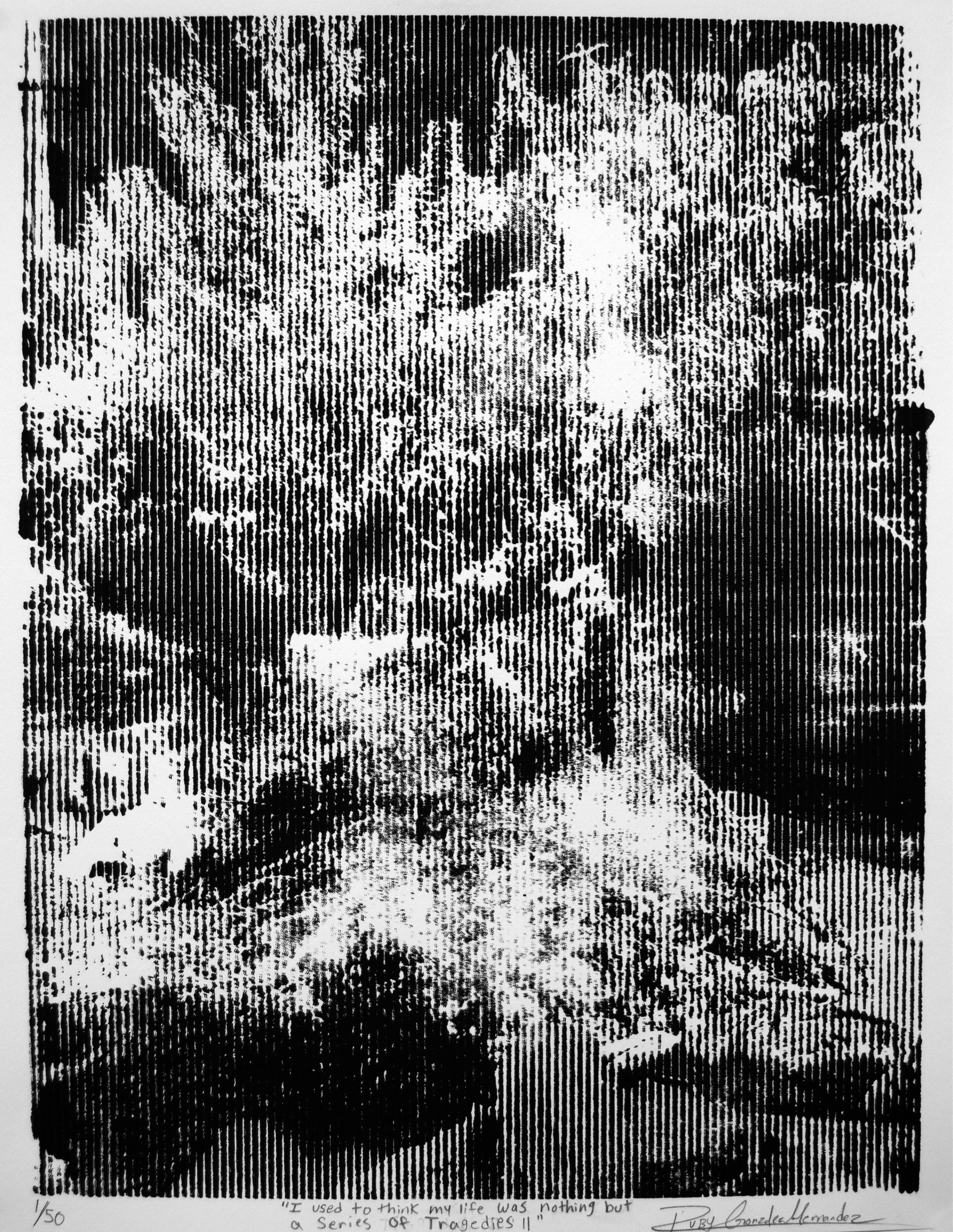 Artist Statement
As a lens-based artist, I use photography as an expansive tool within other media, such as printmaking and woodworking. Between these media, I dissect and investigate institutional structures of religious, immigrant, and familial coercion that supposedly construct my identity, seperate myself from these constructs, and reclaim fragmented parts of myself I can't describe, remember, or explain. The outcome of this process finds out to be destroying and remaking the image, serving as an artifact of my experience.
The work that I make is a secondary outcome to my process in healing. Almost as muscle memory, the work allows me to remember situations and places that coercive structures suppressed.
For questions, inquires, or comments, please contact me at
ruby [at] lunch money print [dot] com
Ruby Gonzalez Hernandez is an Indigenous Zapotec artist, educator, and curator born on Quinnipiac land (New Haven, Connecticut). As a lens-based artist, she uses photography as a tool in printmaking, woodworking, and other media to investigate and find language for many themes; religious exploitation, spiritual salvation, redemption, oppression affecting BIPOC, and more. She is passionate about work that serves the New Haven community, grassroots arts ecology, and currently runs an annual international print exchange to serve those aims called
Lunch Money Print
.
Ruby's work has been supported and recognized by the National Basketball Association, Facing History and Ourselves, United Way, the Arts Council of Greater New Haven, and more. In her curatorial practice, she organizes exhibitions concerning themes and ideas surrounding community solidarity.
PRESS



New Haven Independent - Mill Street Exhibit Makes It Local, 2020

Connecticut Art Review - The Million-Petaled Flower of Being Here, 2019

New Haven Independent - Window Art Tranforms Vacant Storefronts, 2019

The Arts Paper - "Artspace gets collaborative", 2019

The Arts Paper - "Help Your Shelves" Grows Literacy in Dixwell, 2019

The Arts Paper - Neighbors Dream Up What Newhallville "Could Be", 2019

The Arts Paper - "Could Be" Fund Turns To Artists As Neighborhood Connectors, 2018

La Voz - La Voz interview with Ruby Gonzalez Hernandez, Artspace Summer Apprenticeship Program, 2017

New Haven Independent - Artist Debuts at CWOS With Trucha, 2017

AWARDS

National Basketball Association - 2019 NBA Voices Champion, 2019

Facing History and Ourselves - Student Upstander of the year, 2017

BOARDS
MakeHaven - 2022
Arts Council of Greater New Haven - Sandbox committee, 2020-2022